The Magic of Halloween
So as you all know, I grew up in Hungary and I never experienced what Halloween was like until I moved here 10 years ago. And even then I really didn't "get it"! Sure I saw the little kids dressing up in scary costumes and going trick or treating but it wasn't until I had my girls that I REALLY got into it!
I love Halloween now! I love going with my girls to choose their costumes and I love decorating our home. Last year was the first time I decorated for Halloween and my family loved it. So this year I went all in!
My oldest daughter is really into the "spooky" parts of Halloween but my youngest (even though she's the toughest) gets scared really easily.
So it was important that I decorated our home in a way that piqued my older daughters interest while not causing my youngest daughter to have nightmares. 😱🤣
But like every other challenge motherhood brings, we rise to the occasion! This year I went with black, gold & white. I was trying for an elegant, glamorous Halloween. I used butterflies paired with spiders!! 😬
Foyer 
I used a simple white Xmas tree in the foyer( From Five Below!) and decorated it accordingly. I used brightly-colored butterflies(Walmart) for little pops of color and leaf garland with little black roses! The Crystal beads make it so elegant! On the console table I used Carnivale Masks and hats(Michaels) to add some "Glamspook"(yes I made that up!) 😜😜 and of course the Queen of Halloween has the perfect spot in our foyer!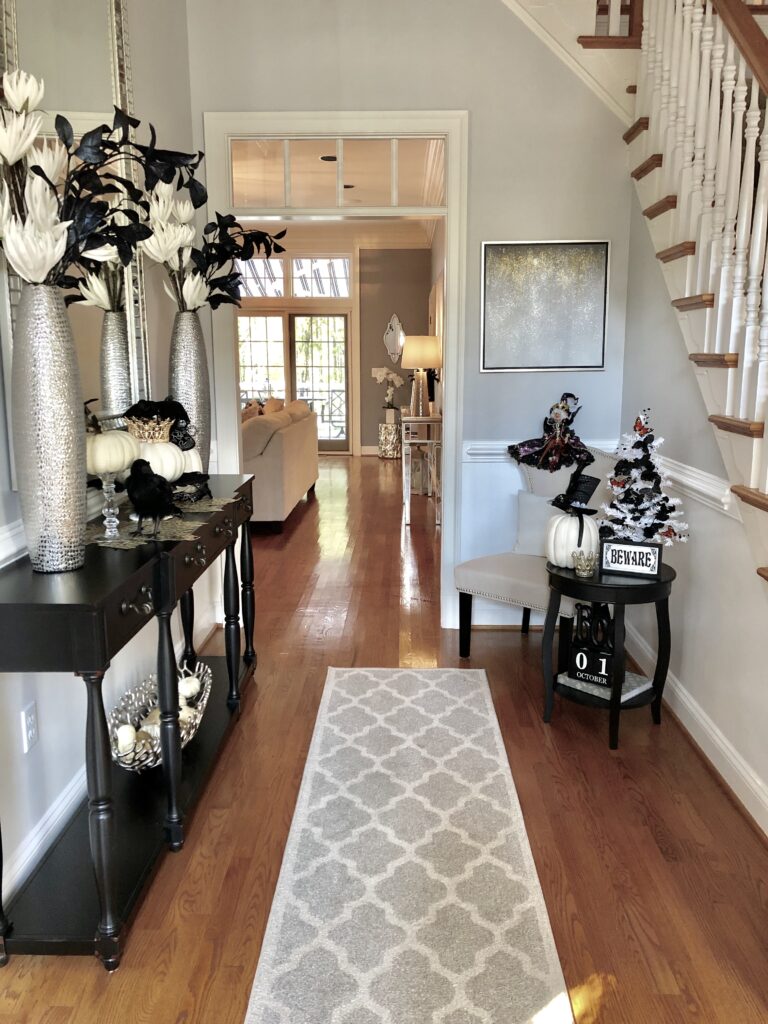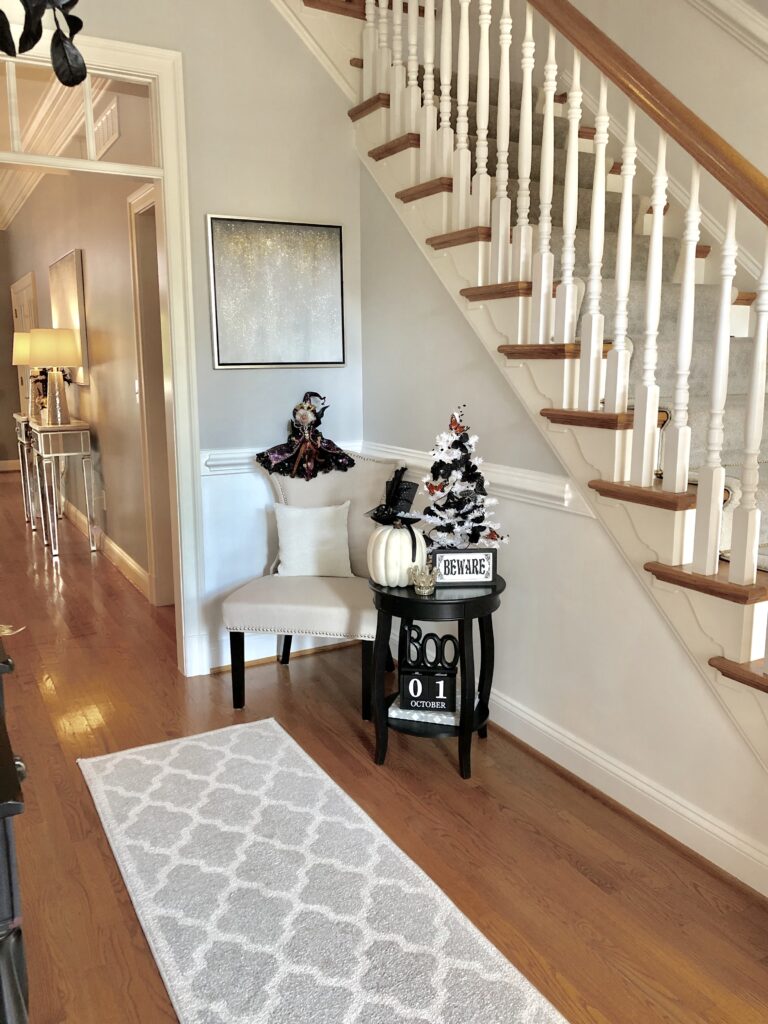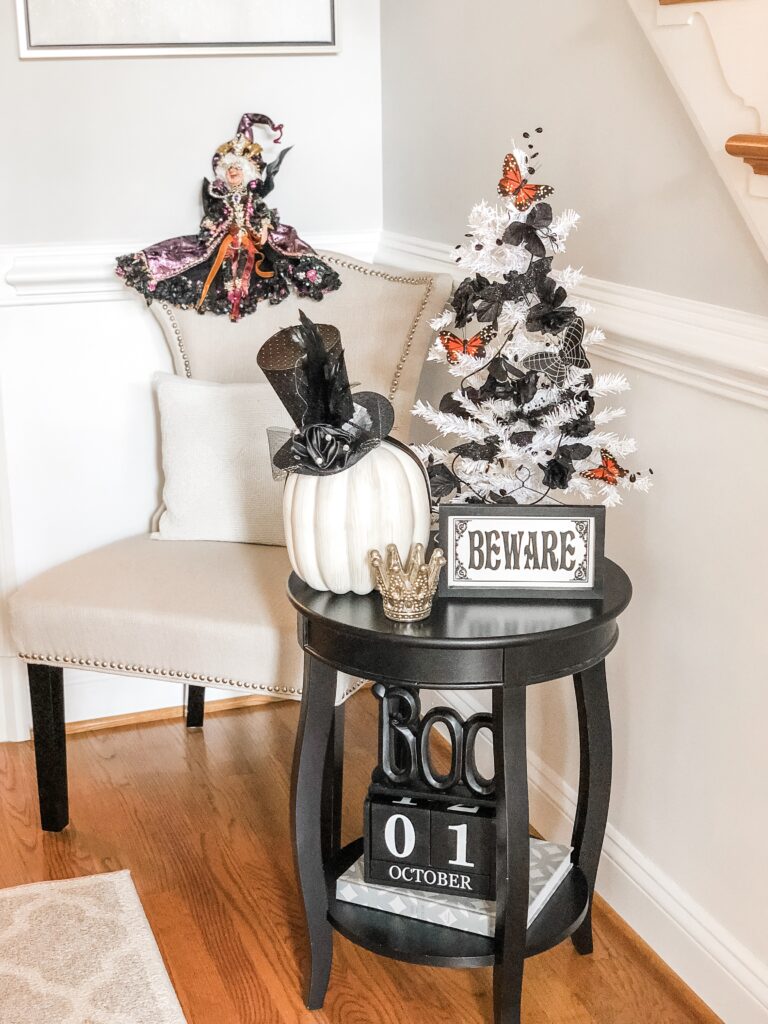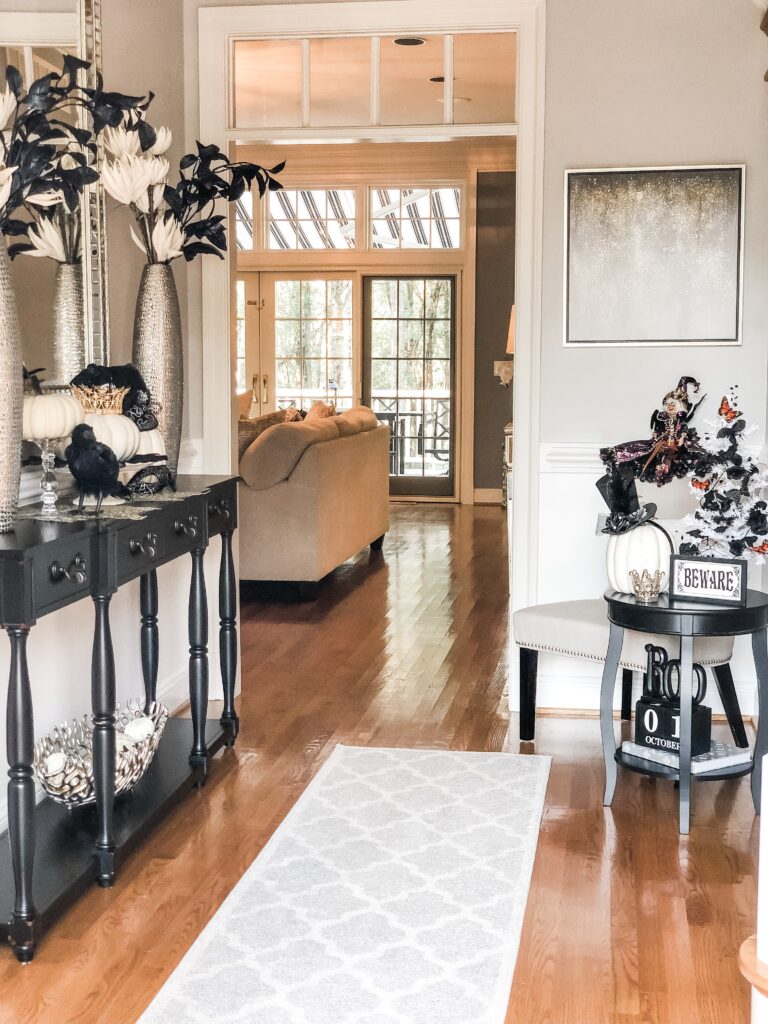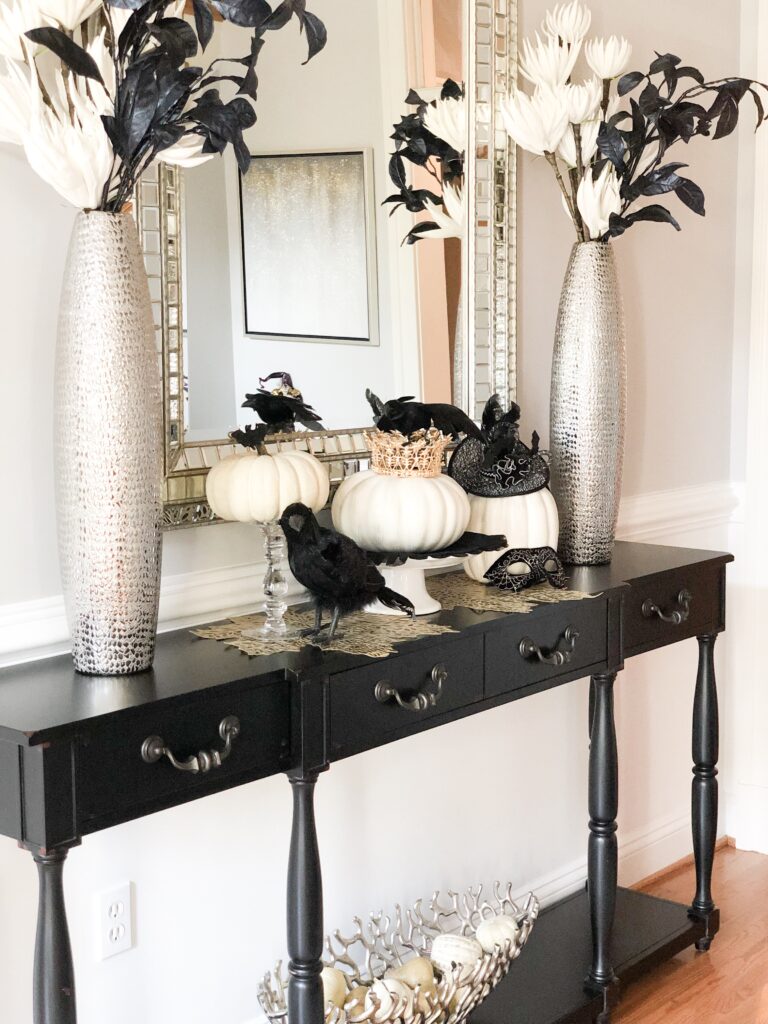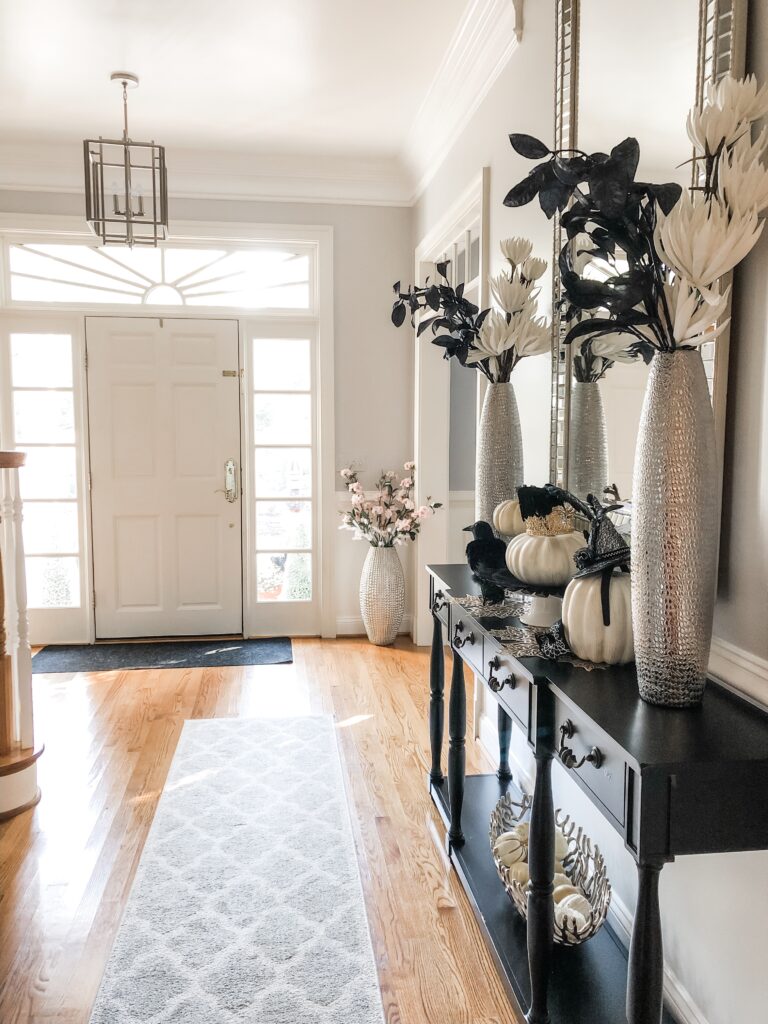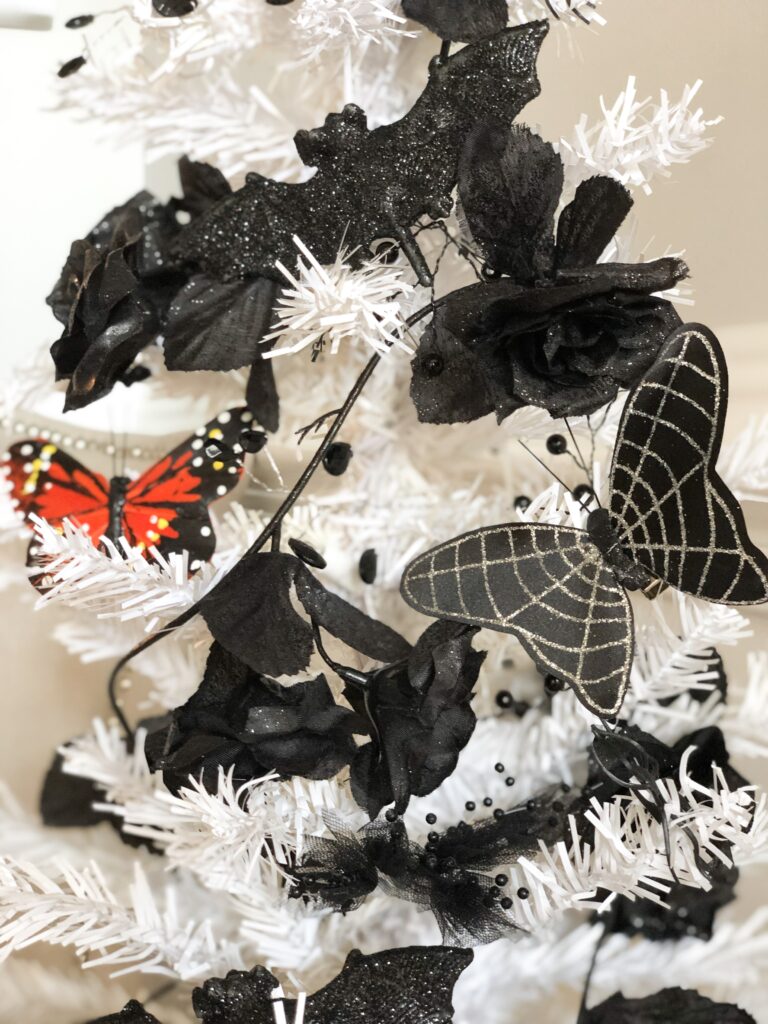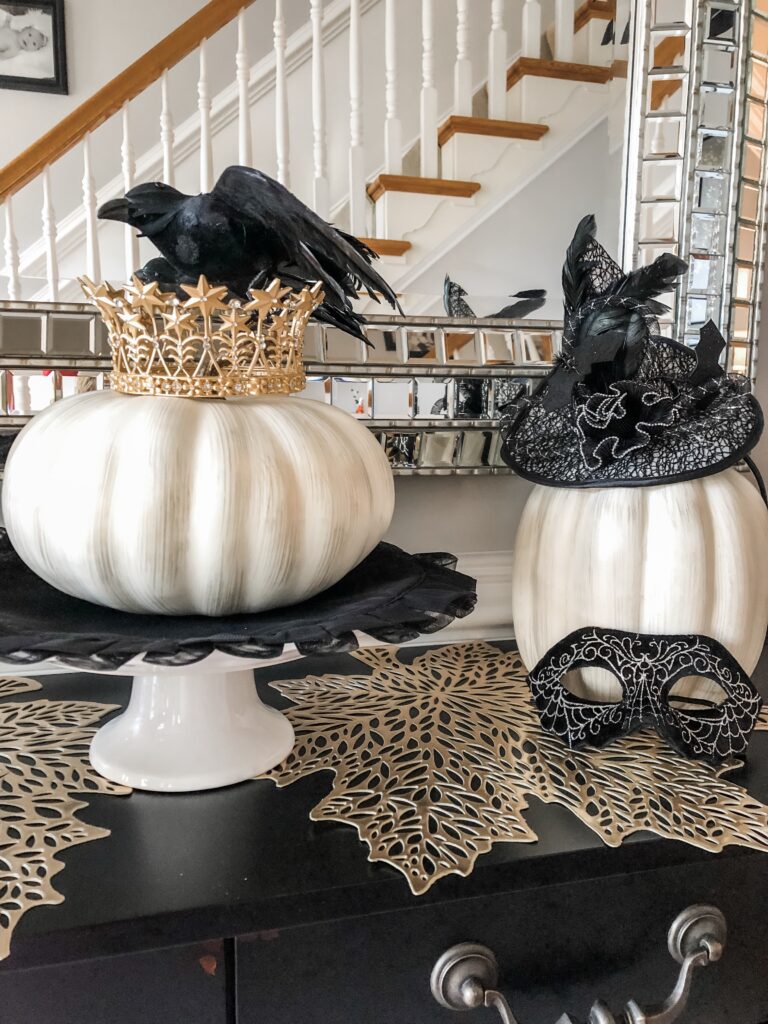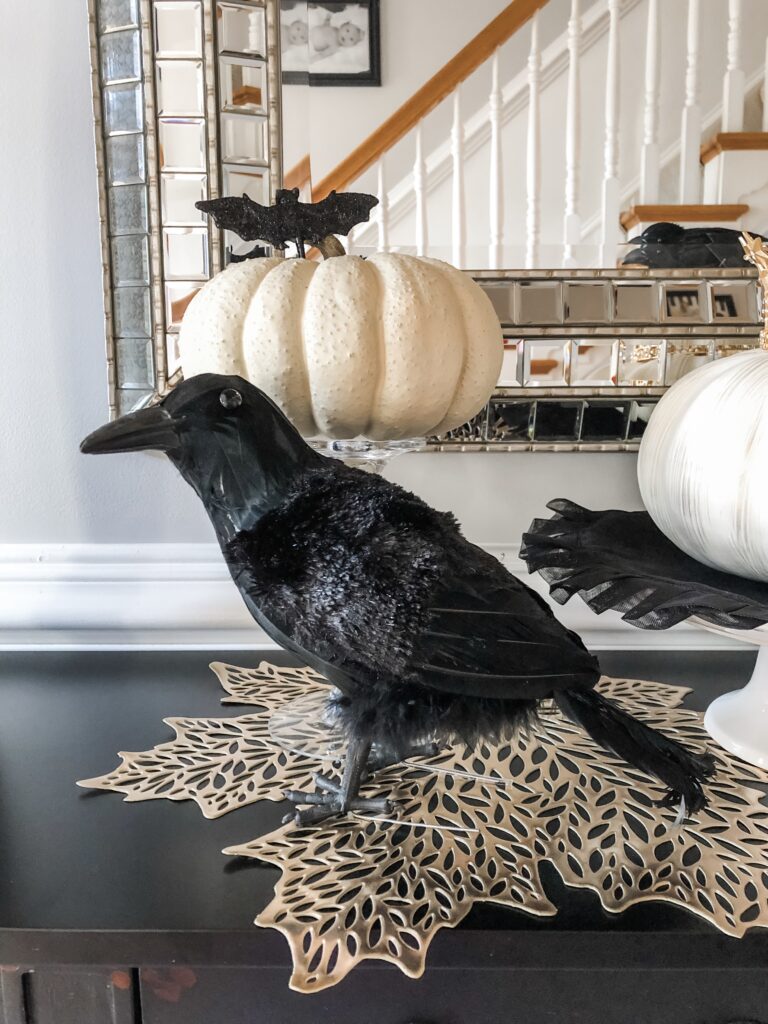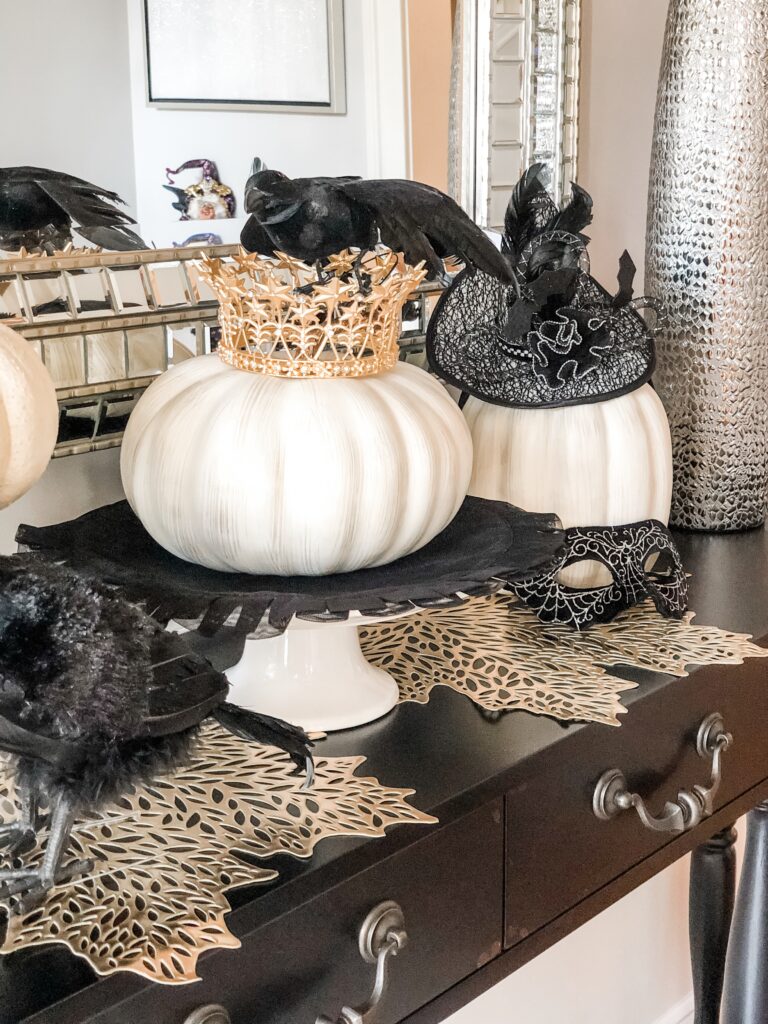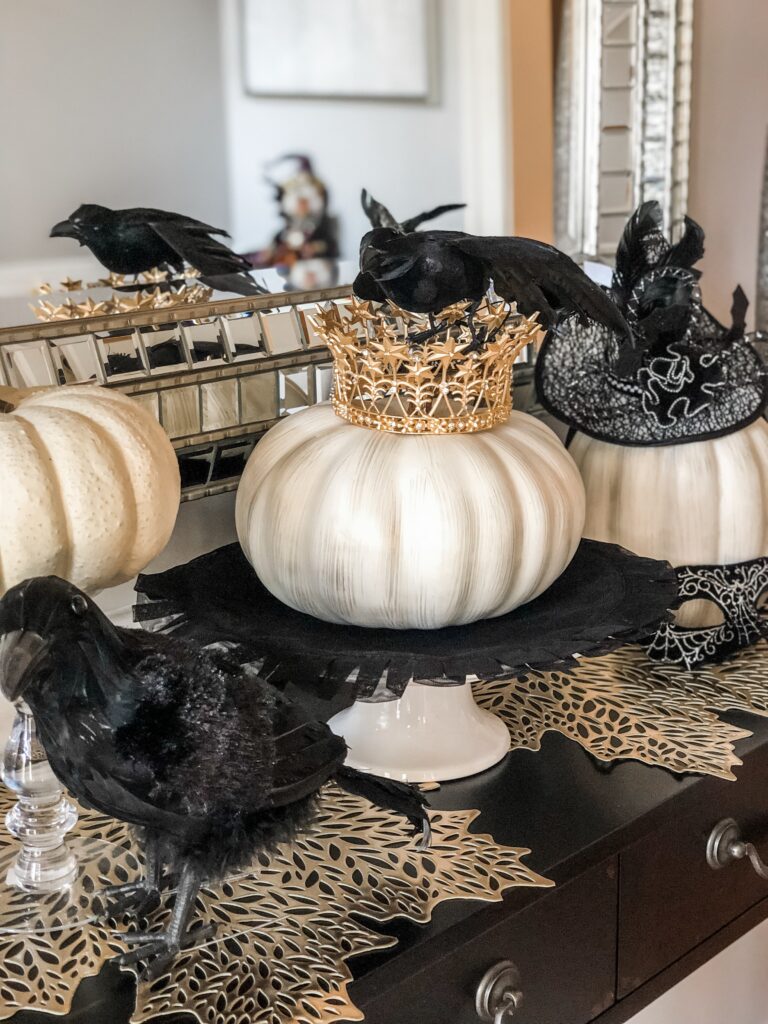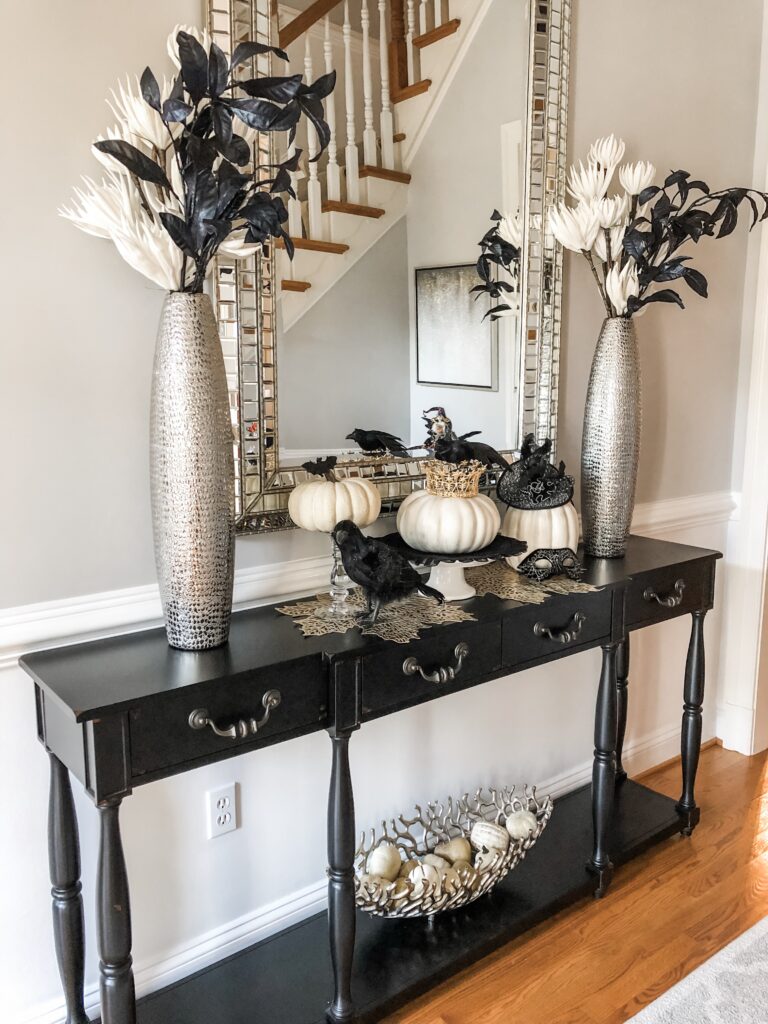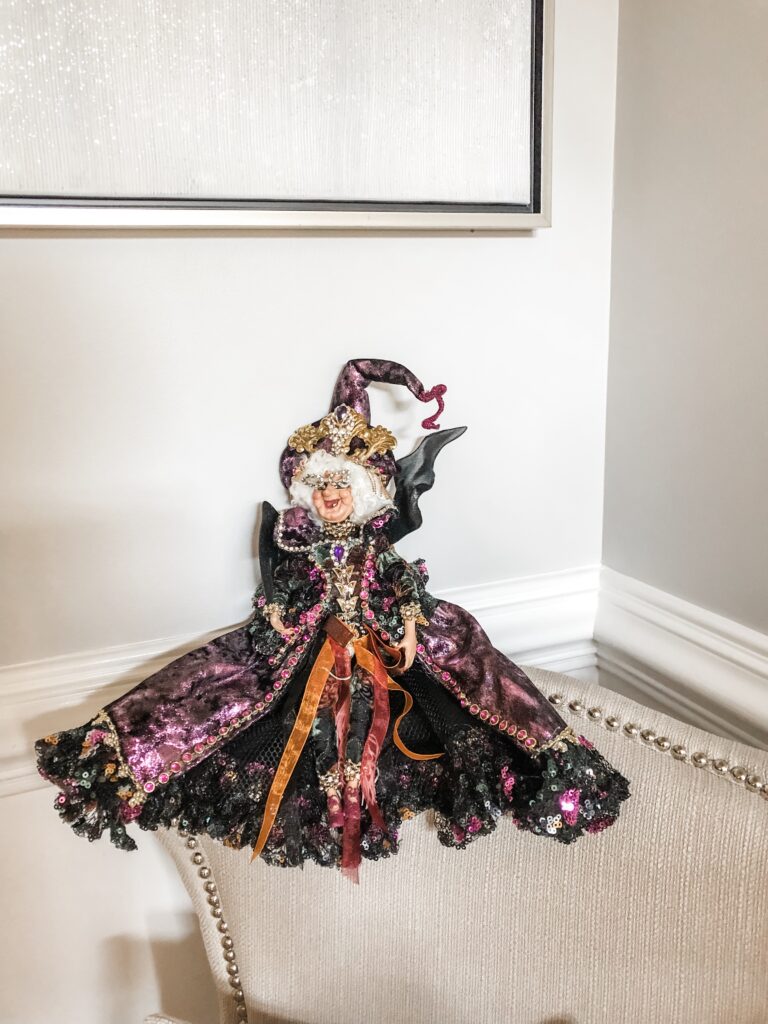 Kitchen
I added some potion bottles(Michaels) next to my Grandma's old cookbook and (thanks to my Hubby tracking down some dry ice) added some spooky smoke to an old flower pot( now its a Witch's cauldron!) 🤣
For the kitchen island I used candles from Anthropologie and crowns( God Bless Amazon!)
And I paired some beads and spiders alongside a spooky, glittery tree(all from Michaels) on my island too. And the leopard-print butterflies add a feminine , chic touch.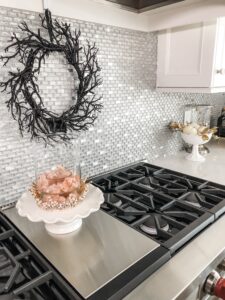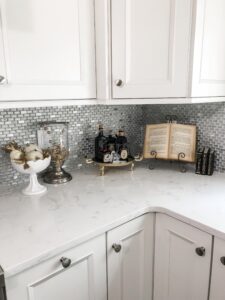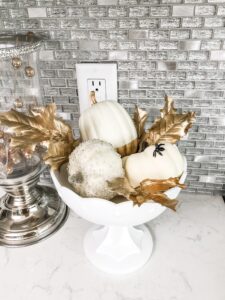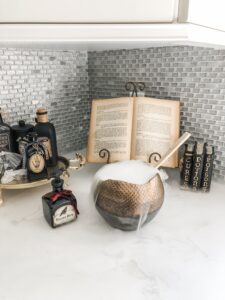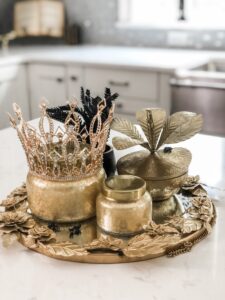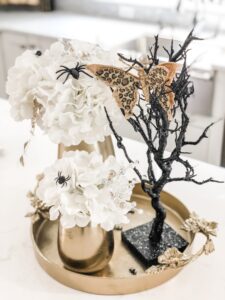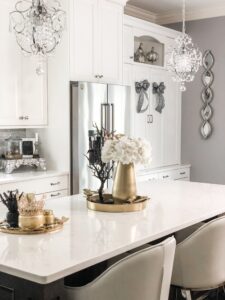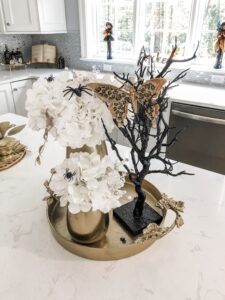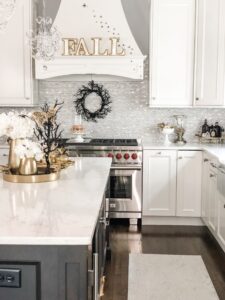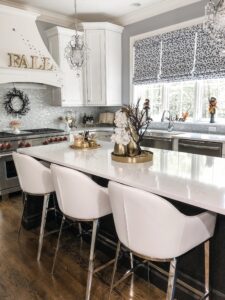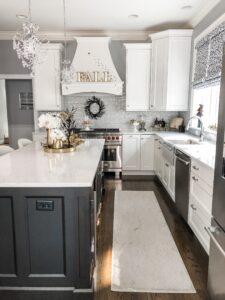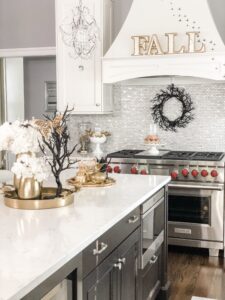 Breakfast nook
On our breakfast table I used a beautiful, tradition flatware set alongside gold chargers and white & gold dinner plates gives a luxury look for our table. They are so Glam! All topped off with wine glasses filled with fake syringes and dry ice.
Crystal spider napkin holders are a great finishing touch. On the mini cake stand some treats in these cute cups probably the kids favorite part!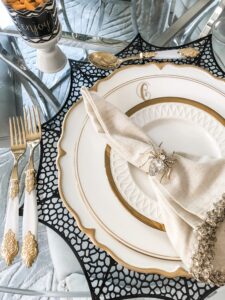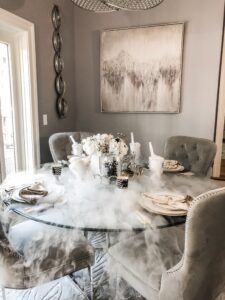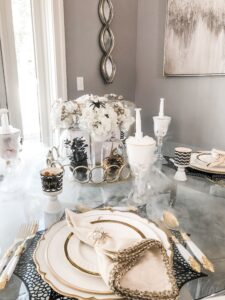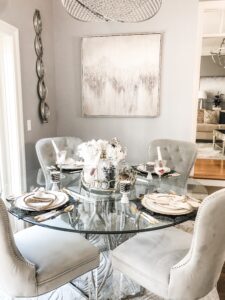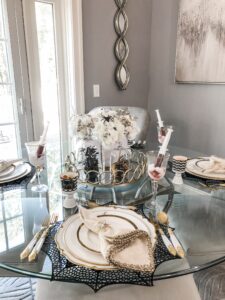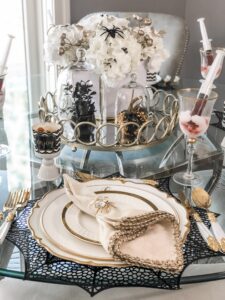 Family room
I really enjoyed mixing patterns in this room! On the fireplace I used white pumpkins and black leafs and for the glam look I added this gorgeous Pressed Metal Fern garland! I love how the colorful butterflies pop! The 3D spiders and the glittery trees makes it so SPOOKY! To make my fireplace  full I kept the candle holders that I use all year long! Our coffee table is one of my favorites! I mixed the antique base hurricane holder with the multi-colored crows! On the marble tray I have all the white pumpkins with black garland and the butterflies make it interesteing! Behind the sofa I used one of my Flower boxes I created and my girls` favorite is the little ghost house with candles!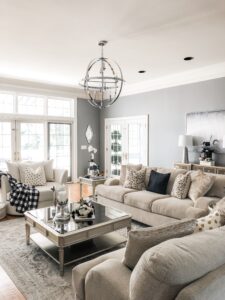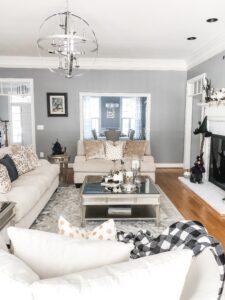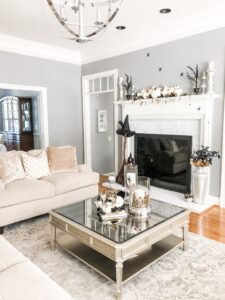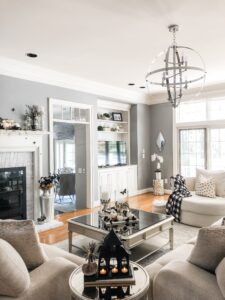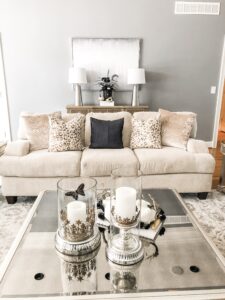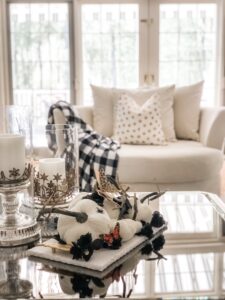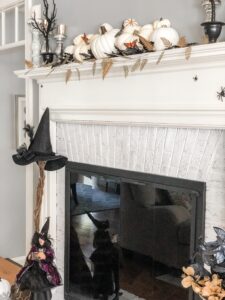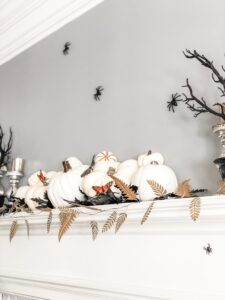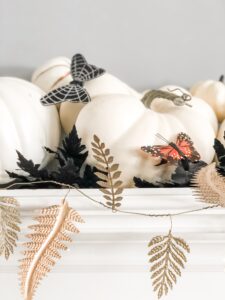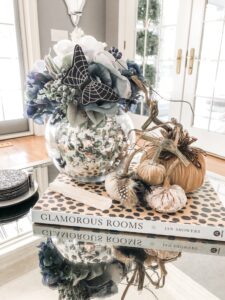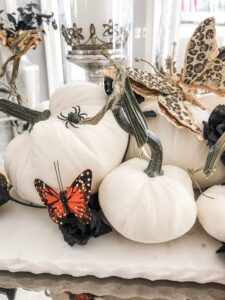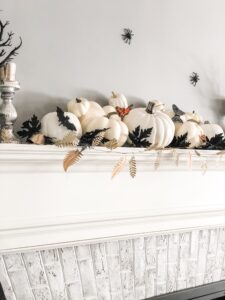 I think we nailed it! What do you think? I truly value your opinions!
xoxo; Katalin