Girls room makeover
---
We have two daughters and I really enjoy decorating their room! Your most loved room in our home is by far my youngest daughter's blush , grey and white room!
I need to tell you, I LOVE decorating with white! It's the perfect base in any room and it is so easy to add colors or pattern it! Using white essential pieces in your home allows you to decorate with countless color combinations! The possibilities are endless!
When decorating your home, select furniture pieces that are timeless and neutral. This will allow you to refresh your home with just a few inexpensive changes.
My goal was to create a girly, bright and happy room for my youngest daughter!
---
Here's what her room looked like before the makeover…
                                                                                            
I wanted to design a room that could grow with her through her teenage years and allow me to change out minor things if she needed a refresh! Who doesn't like to change things up? Change is always good! Especially when it is inexpensive! We have to make sure that small makeovers don't cost a fortune.
When you find the perfect piece of furniture and you have an itch to changes things up, a new color, pattern, or fabric can give your room a totally different feel!
This is why I decided to go with a white bed & dresser, and grey mirrored nightstands! I also had to think of colors that will never go out of style! Blush pink, black, white, grey, silver are the colors to make a perfect statement in this, or any, room!
I painted the wall Pebble Grey by Glidden! It makes the room so bright, elegant and clean!
I love flowers! Especially peonies! They are perfect for a little girl's room and give such a happy feeling! What happens when she doesn't want them anymore? No problem! They are the peel and stick wallpaper kind so it's easy to use them. And you can take it off any time without damaging your wall!
---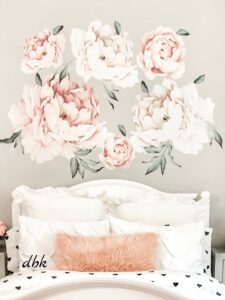 Don't waste the space in your closet shelf to buy so many different patterns and colors of duvet covers! Buy one high quality cover and you're all set!
---
Here's what her bed looked like before we changed the bedding…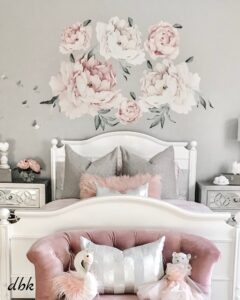 I just changed the bedding and I'm so happy with it! My favorite store to shop is Pottery Barn Kids! They have the most beautiful and cutest bedding and sheet sets! The Pintuck duvet cover + sham is a perfect complement to any bedroom decor! It gives such a cozy , full look! You just want to crawl into your bed! I know you are gonna love it too! Try a little, inexpensive makeover by using different colored and patterned sheets , blankets and throw pillows for each season! The throw pillows are the character of the bed! They give such a fun, cozy feelling! 
My older daughter's room had everything from Pottery Barn and she chose her bedding set from the Emily&Meritt Collection! I just adore that style! So in this room I wanted to add the Emily&Meritt heart sheets set! Isn't it adorable? The little black hearts just pop on the white duvet cover! 
---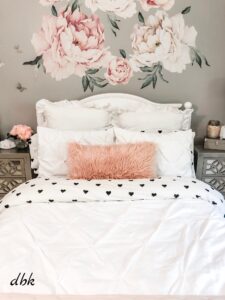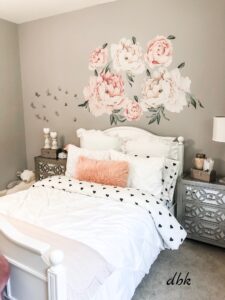 ---
   Bring a soft, feminine look in the room! 
I found these two European sham ruffled pillows in Homegoods and they add such a dreamy, cozy feel to the bed.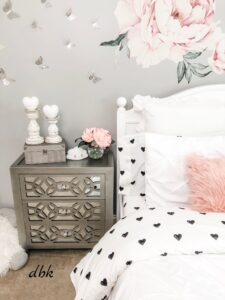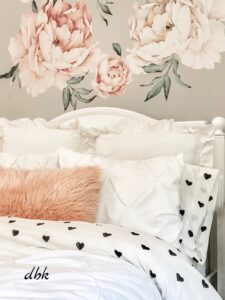 ---
                           xo; 

Katalin
---
   Shop the look or similar items
 – tap the photo
                                                                      
---