How to create a Glam Elegant Halloween table
I love decorating my tables for any holiday, especially this time of the year!  I can use my imagination and I love mixing patterns and textures! It doesn't really matter if we actually sit there and use it!I love decorating the tables if only to bring a Holiday feel into that space! When you decorate your table it gives  you such a beautiful feeling and  makes your room  warm and festive! I made this blog to show you step by step how to make a Glam Elegant Halloween tablescape!
*This post contains external links for easy shopping!
Step 1
I use a white tablecloth (click here for a similar option) from Bed Bath & Beyond! I really love this beautiful pattern and I use it on my Thaksgiving and Christmas tables also. It is simple yet elegant and classy.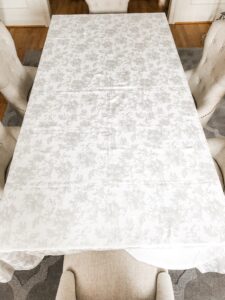 Step 2
To make my table Bold I used this gorgeous Martha Stewart black & white table runner!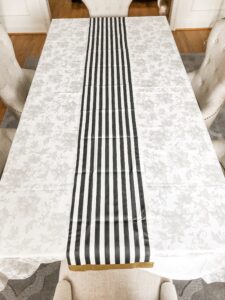 Step 3
I placed  these elegant Vintage round  black charger plates so I can see how much space I have to create my centerpiece!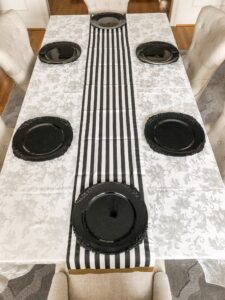 Step 4
I styled my ivory  and gold pumpkins in the center! The ivory set and the feathered pumpkins are from Hot Skwash and I found  two gold pumpkins at Home Goods! To give this table a more spooky Halloween feel I added  black glittery butterflies and plastic spiders on the pumpkins!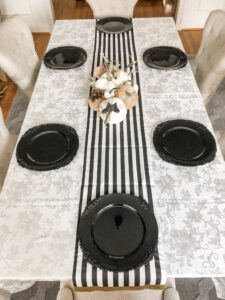 Step 5
Next, I tucked metallic gold bay leaf! Perfect touch to glam up your Table , Mantel ,or your flower arrangement! I added black leaf garland!  I think it makes my center piece perfect Finally I added 1 Monarch Butterfly  for the soft pop of color!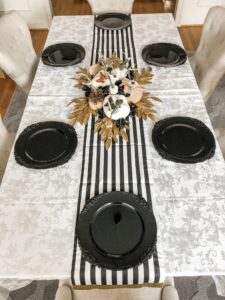 Step 6
Now that my center piece is complete I can add the rest of the details! My versatile Abigail Ivory Dinnerware gives the table a very elegant regard!  The Gold beaded cream napkins are also a very elegant touch! To keep the glam look I used my gold flatware and glasses! (My glasses are from Home Goods but I have these gorgeous too! Click here to shop)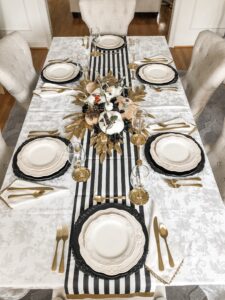 Step 7
My girls love getting letters and notes so I wanted to create a card holder and I can write cute notes to them! How adorable are these polka dot snack cups? I bought it from Party City!  There is a link for a similar one! In the cup I put these awesome mini white pumpkins and adorned them up with the Tiny Gold Rhinestone Crowns! Yay! My card holders turned out perfectly!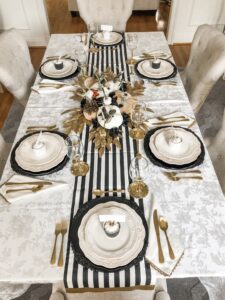 Step 8
To warm up your room during the holiday season just add some candles! They will add some magic to the table! I don't have enough black candles so I mixed them with white and I just added some of the sparkly spiders on the white candles! They look fantastic on my gold candle holders from Target! And to make this Glam Halloween table perfect I added some delicious chocolate! (My Husband bought the treats!)  Who doesn't like chocolate, right? I served them on my mini cupcake stand! These small and simple details made the design full and gave my table a very luxurious, elegant look!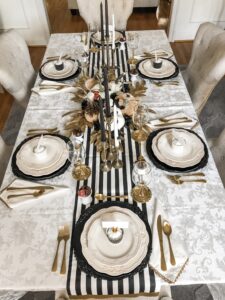 Elegant , Bold , Simple , and so Beautiful right?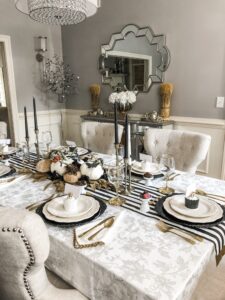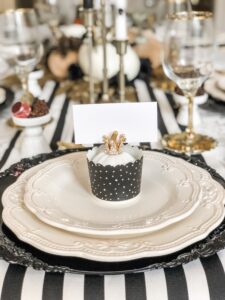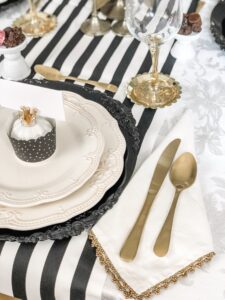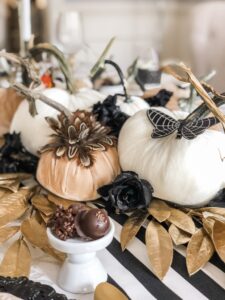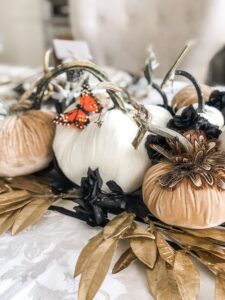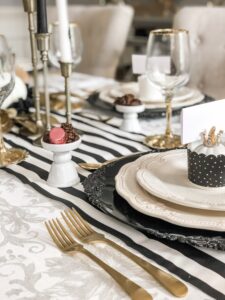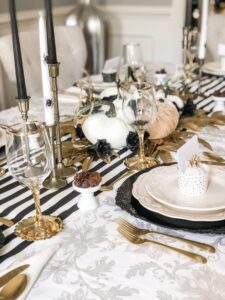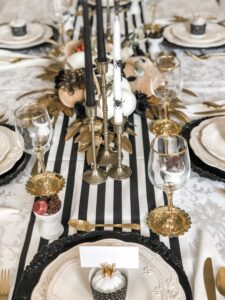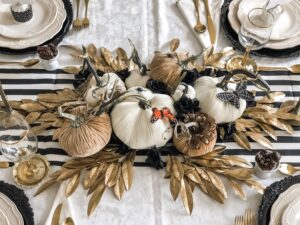 Have an amazing time decorating your Dining table!

xoxo; Katalin