If you want your Christmas tree  to look like it's straight from a magazine use  these directions no matter what Christmas style or theme you love. 
STEP 1: Ready the tree & gather supplies
Fluff and open all of the branches
Make sure that all of the lights are working
Add  the lights in every layer when you are fixing the branches
Make sure your tree is straight
STEP 2: Start decorating
Add your wired ribbon. (I cut mine 17 inches long)
Add the large Flowers
Add the large ornaments. Don't just hang them, let the branches snuggle the ornaments!
Add the medium ornaments
Add the small or special ornaments on outer branches of the tree
STEP 3:  Christmas Tree topper
You can use a Star, an Angel or just picks. I added a crown because it helps keep the picks in a nice shape and they don't move around and droop down.
Step 4:  Final touch
I always add my picks on the end because I can see the empty areas where they are needed!
Finally, add your Christmas tree skirt!
I hope you find these tips helpful! 
Please share your Christmas tree with me! Have an amazing time decorating your tree! In my next blog I will bring a fun and different decorating idea! Don't forget to subscribe so you never miss my new blog!
To watch the full step by step video click

HERE!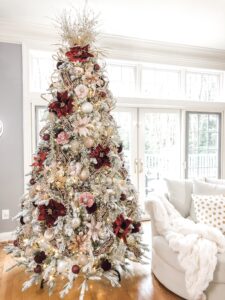 Shop this tree or similar items! Click on the pictures!