Summer Wind  Valentine's
Thank you for stopping by and reading the blog!
One of my goals is making a warm & cozy home by using budget-friendly decor pieces! For me, it's fun to create spaces that reflect the current season and/or holiday!
If you follow me you probably know by now I like to decorate with mostly neutrals and then add pops of color in my accents. My favorite color is pink so I am always so happy to add some Valentine's touch in our home! I will share with you tips and tricks how to keep it simple and budget-friendly!
With these ideas you can easily transform your home for Spring because you can keep most of the pieces out!
I created a Valentine's decor this year and made it so easy! And when Valentine's is over you take away the small heart pieces and your home is transformed for Spring!
Let's start with the foyer:
I like using these pink cherry blossom flowers that I always have in the big vase! My husband surprised me with this beautiful flower box last year and they still look stunning! In my side table I added this cute sign! I wanted to do something fun for my girls so we have the mail box, lovely cards, stamps and pom pom pan to write a little note to each other! It makes me smile when I see how important it is to them to make a note every day until the 14th! They have so much fun opening them on Valentine's Day!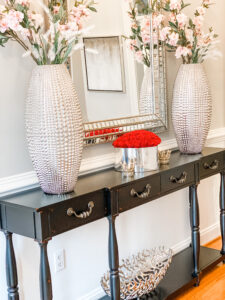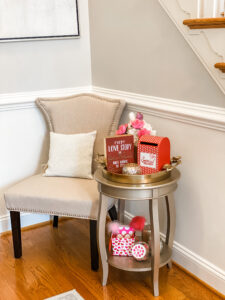 Family room
I decorated both side tables with pink flower arrangements and candles! On the coffee table I have this beautiful rose box from The Royal Roses! I keep the antique mercury hurricane candle holder on the coffee table most of the time and I love decorating with crowns! Crowns are such a stunning statement all year! So feminine! The beautiful velvet hearts give the perfect but simple  elegant Valentine's touch! I kept it very simple too in the console table so the only thing I have there is the XOXO sign in front of the flower arrangement!
I don't do too much to the fireplace! Usually it is still cold in Maryland this month and we have a fire every day. This is why I never pack or overload the front of the fireplace! So much trouble to clean them every day to make sure they don't catch on fire! On the fireplace mantel I have candle holders on both sides with little pink/white flowers! In the middle I have art and in front of it this gold-finish LOVE sign!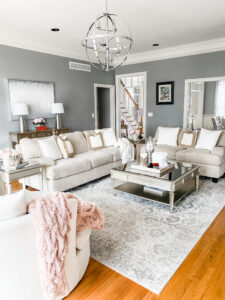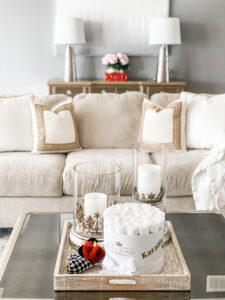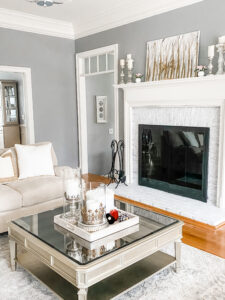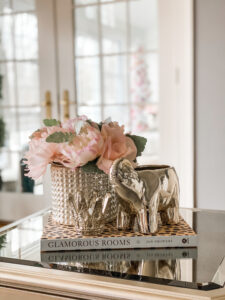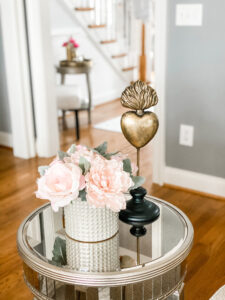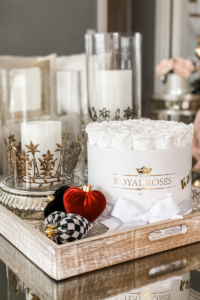 Cozy room/ Sun room
I'm always so sad taking away the Christmas decor and everything feels so empty but thanks to Valentine's trees I can keep one tree and fill it up with pink and gold hearts! We had our hot cocoa  station here in December so I just transformed it to a snack bar! Using a cake stand , white bowl and glass jar to fill them up with goodies! Heart-shaped jelly beans, chocolate, pink marshmallows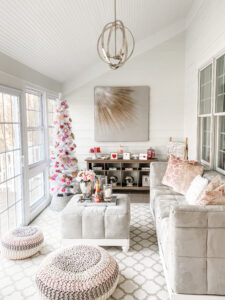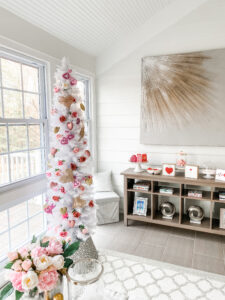 Kitchen
The heart of our home has to always have fresh flowers! On the stove I have this big white gold bamboo bowl with white hydrangeas and the heart picks are just a perfect Valentine's touch! The only thing I added on my gold flower wreath is two different ribbons! I one of the corners we have pink lemonade with pastries! I made the velvet heart under the clock! I am adding different objects to create a bigger pink palette ( flowers , candles, cookies)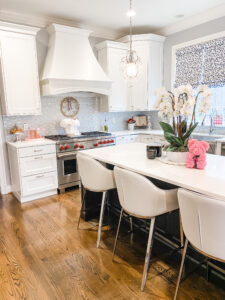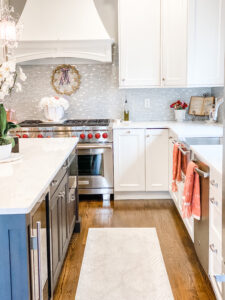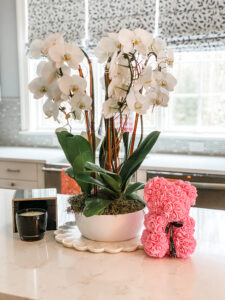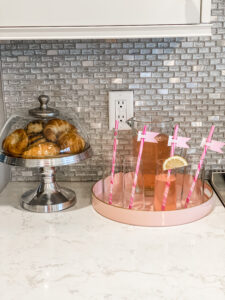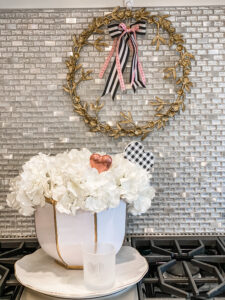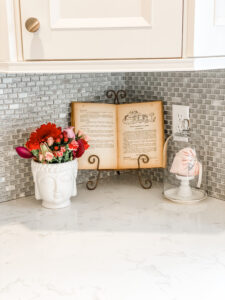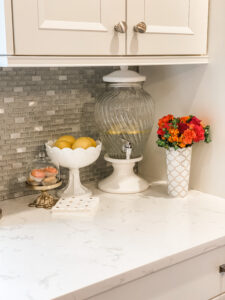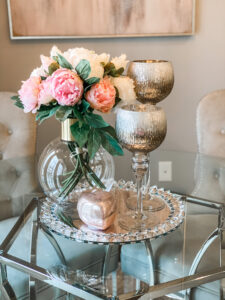 Kids room, bathroom
The easiest rooms to bring in Valentine's feelings! They have these cute stuffed animals with hearts on their clothes! I made flower bags! Such simple and cute decor pieces! In the bathrooms we have pink salt bombs and flower soaps! I also use my preserved roses to add a Valentine's feel!
HAILEY'S ROOM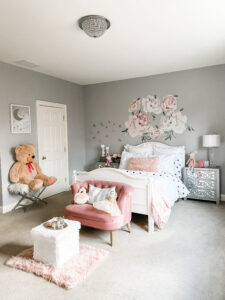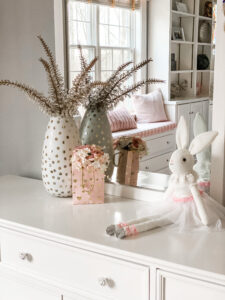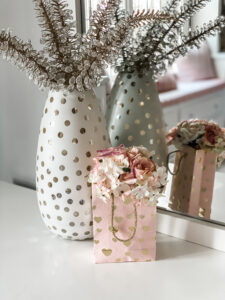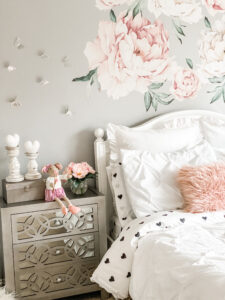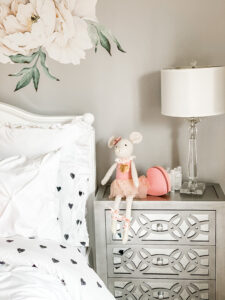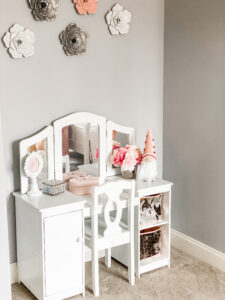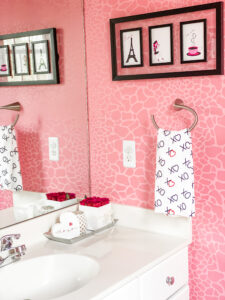 RILEY'S ROOM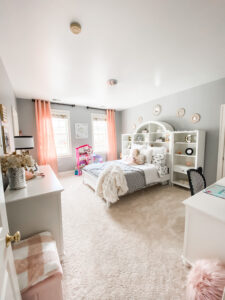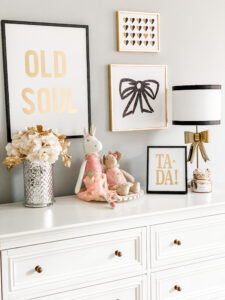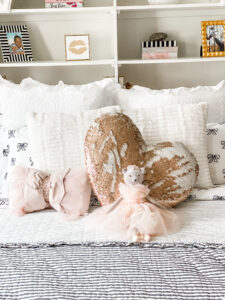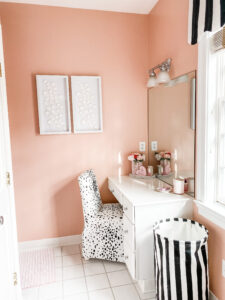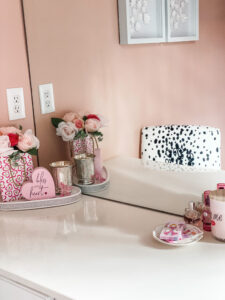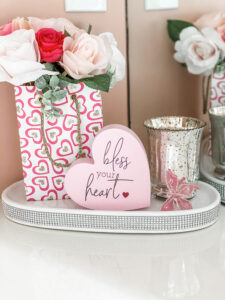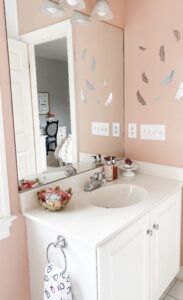 WOMAN CAVE BATHROOM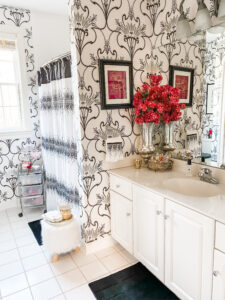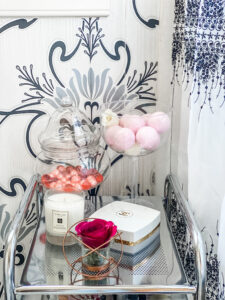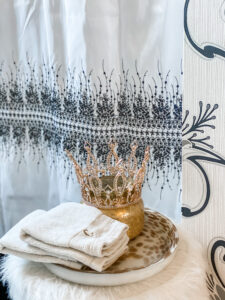 I hope you enjoyed my Valentines's 2020 Home Tour and you are inspired! Have fun decorating your home!
XOXO; Katalin♥