Welcome back!
I know you are in the same boat as me! Overwhelmed with everything right now! Personally, I'm starting to get so sick of vacuuming every day! Because I don't do it just once a day especially since we have a puppy now, I need to do it several times a day! That's just crazy right? But not anymore! You know why? I got my amazing robot vacuum from moosoo.usa!
This post contains affiliate links.
When we buy  any vacuum we wanna make sure it's worth the money! Does a robot vacuum really work? Before I wrote  this blog I wanted to test this robot vacuum to make sure I can give you accurate information! I wanted to be 100% sure it works  perfectly! I can tell you it is the most amazing vacuum I have ever had!  So easy to start! I can control it from my phone! Gives me  extra time! It really is so amazing how well it cleans my home!
Benefits of robot vacuum
-Time savings: the robot vacuum can clean your entire home when you focus on other things like cooking, playing with your kids, or home schooling now. Or even if you are away from home!
-Continual cleaning: if vacuuming the floors every day doesn't sound like your idea of a good time, this robot vacuum can do it for you! This is especially ideal for large homes, homes with a lot of wood or laminate flooring that collects dust, or homes with pets that leave hair all over the place!
-Mobility: vacuuming the floors can be a difficult physical task, especially for older generations, and can be impossible for someone with mobility challenges! This vacuum really makes their everyday life easier!
How to start the Moosoo robot vacuum!
Click on the link or in the picture to watch the full video!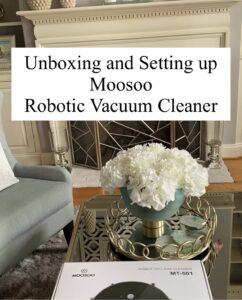 Take care and give extra time to yourself! Order your robot vacuum today! Use my code: "katalin" to get 15% off
Enjoy your day! xoxo; Katalin
---